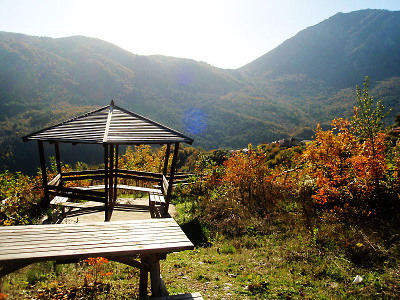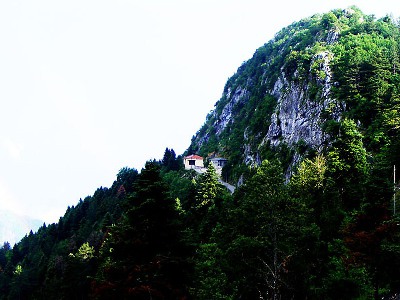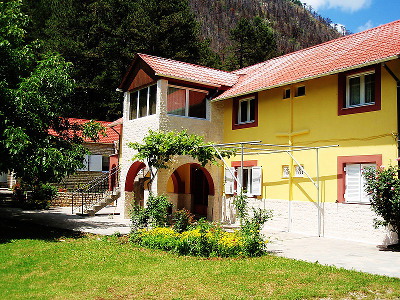 AMARANTOS KONITSA
"Amarantos" is in the homonymous borderline village of Epirus and ensures relaxation and tranquility desired by each visitor. Just 35 minutes northwest of Konitsa at an altitude of 1260 meters.
The flora and fauna is beyond any imagination. A separate vegetation, unique in Greece from beech, pine and fir will relax and calm you. Near the village there are several small caves and trails suitable for hiking and exploring in nature. Also Ziasiakas River (a tributary of Sarantaporos) passing through arched bridges, works of Epirus craftsmen (many of them were Amarantians) creates a unique beauty pageant.
The panoramic mountain views of Smolikas and Tymphe mountains and the combination of the above will make you to miss Amarantos wherever you go.
GUESTHOUSE
Your accommodation in our rooms will give you an easy access to steam baths of Amarantos and unique sense of hospitality of Epirus.
All modern conveniences provided :
- Comfortable and clean rooms (with fridge, hot water, heating, TV).
- Great view.
- Excellent service.
- Enjoyable accommodation.
- Located next to the steam baths Amarantos.
Also, there is a restaurant with traditional dishes from Epirus, pies and sweets. Along with all that you will find pleasant people to serve you at any time.
Enjoy your escape from the sounds of the city!!!
BATHS
The hot springs of Amarantos are unique to their species across Europe. In a modern bathhouse can enjoy the therapeutic effects of steam.
From 15 sources of faults, released hot air at 35-38℃ and maximum humidity 97-100%.
The results of regeneration are astonishing, as fanatically spontaneous are the views of people visiting the baths of Amarantos and after two or three steam therapies are ardent advertisers of our steam baths. Chronic diseases are finding the best doctor in the power of steam.
According to the 16th Panhellenic Medical Congress illnesses are treated :
- Lung diseases, bile, liver, kidneys.
- Several endocrine disorders.
- Respiratory diseases (asthma, etc).
- Arthritis - rheumatism.
- Vertebra arthritis.
- Neuralgia.
- Chronic simple bronchitis.
- Rhinitis.
- Chronic gynecological inflammations.
- Salpingitis.
- Vaginitis.
- Endometritis.
- Skin diseases.
- Lumbago.
- Sciatica.
- Neuritis.
- Tendonitis.
- Traumatic disorders.
- Adenopathy.
- Ankylosis.
- Paralysis.
- Diseases of the circulatory.
- Pharyngitis.
- Anemia.
ACTIVITIES
Climbing - Hiking
Every year mountaineering clubs from all over Greece visit us for the established climbing of mountain Kamenik, which extends to the wider Sierra Grammos. A mountain of great historical significance for the Greeks since the Civil War. Staying in scenes from mountaineering clubs in the private area of our hostel is not charged.
Herbal Medicine
The area of Amarantos, which is rich in herbs (tea, sage, blueberries, etc) and mushrooms, is waiting for fans to enhance their collection with them to accept the beneficial properties.
Archery
You can learn the sport of archery by an experienced athlete.
Itineraries
You should not leave without visiting the museum of the village which exhibits objects and woven from the past and modern times which indicate the mentality and culture of the people of the region.
Games - Books
There are miniature radio-controlled cars and helicopters to fill your free time, board games and books from our small lending library.
The Natural Spa Amarandos also perfectly appropriate for the preparation football team, climbing, archery and mountain biking. Those who want to combine tranquility with unique experiences through such activities is a great opportunity.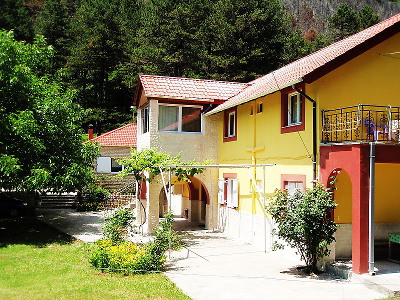 Contact details
Contact manager
: Panagiotidis Georgios
Area
: Baths of Amarantos Konitsa Ioanninon
Phone number
: 26550-22124 / 26550-23839
Cell phone
: +306944542202
Show me the way